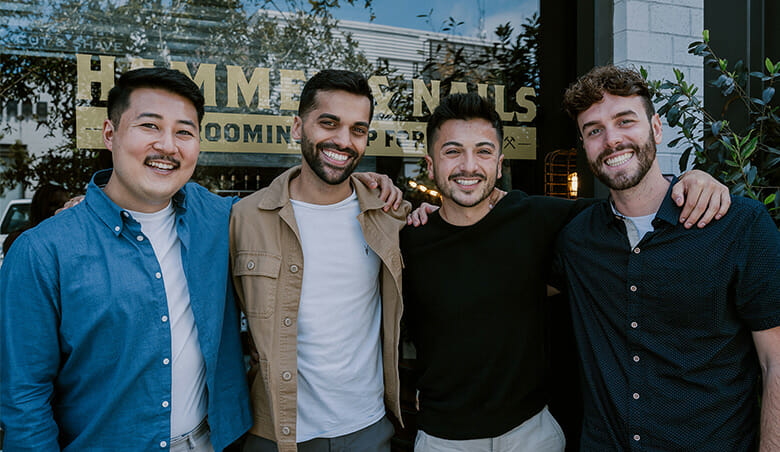 Hammer & Nails Grooming Shop for Guys Heads into 2021 with Style
FOLSOM, Calif. – Hammer & Nails Grooming Shop for Guys, the men's grooming shop providing haircuts and shaves as well as hand and foot care in a relaxed and refined environment, handled the uncertainty of the year with confidence – opening its 13th location, and is now poised to reach 30 locations before the end of 2021.
Finding a niche in the men's grooming industry, a field anticipated to reach $166 billion by 2022, the brand has been racking up national awareness, awarding 34 new licenses in 2020, and selling out area development markets in 40 states – setting the stage for rapid expansion in 2021. Most notably, was a 2020 agreement the brand signed in Florida, in which area developer and finance and operations executive Rick Sander, will bring 17 locations to Florida's Gulf Coast, with plans to open two of his own locations in Naples.
During the height of the pandemic and amid statewide closures, Hammer & Nails directed customers to its online product line, which launched in early 2020 and includes the brand's expertly-crafted beard oil, after-shave gel, essential oils, beard wax and shampoo & conditioner, so consumers could create a similar experience and ambiance from home. As 2021 progresses, the self-care and wellness industries are predicted to rise in popularity, alongside increased cleanliness, health and safety.
"As a result of the past year, many consumers are focusing on wellness – not only looking good, but feeling good – and Hammer & Nails gives a man both. Despite the year and the obstacles it presented, our franchisees remained true to our brand promise, and continued to share the Hammer & Nails' experience with our customers safely," said Aaron Meyers, President & CEO of Hammer & Nails. "This past year gave us the opportunity to lay the foundation for 2021 growth, which presents an opportunity to expand strategically, finding the right partnerships at the right time. With that, the wheels are in motion for what will be our biggest year of growth in franchising as people begin to crave experiential and wellness outlets."
In 2021, Hammer & Nails is planning a national development campaign with the goal of awarding 50 franchises throughout the domestic United States – and hopes to expand further in the Southern part of the U.S., specifically Florida, North Carolina, South Carolina, and Georgia. As men continue to learn about proper hand and foot care and the benefits of self-care, Hammer & Nails is uniquely positioned to handle this increase in demand, making the brand's leadership team confident in hitting its 2021 growth objectives.
On the cusp of rapid growth, the Hammer & Nails brand and experience will still make health and wellness a top priority, which is why technicians examine feet and hands before the services begin. Members' hands are next wrapped in hot towels with essential oils. Every part of the process is about giving great service and helping make guys feel relaxed and pampered in a welcoming environment. In line with CDC procedures, every Hammer & Nails location abides by social distancing, all technicians are required to wear masks and complete the Barbicide COVID-19 Certification course.
About Hammer & Nails
Hammer & Nails was founded in 2013 with the vision to provide hand and foot care, manicures and pedicures, haircuts and shaves to every type of male. After launching its franchise opportunity in 2015, the brand has awarded licenses for more than 200 shops and is working to have 150 locations open and operating by 2025. To learn more about the franchise opportunity, visit https://hammerandnailsfranchise.com/.