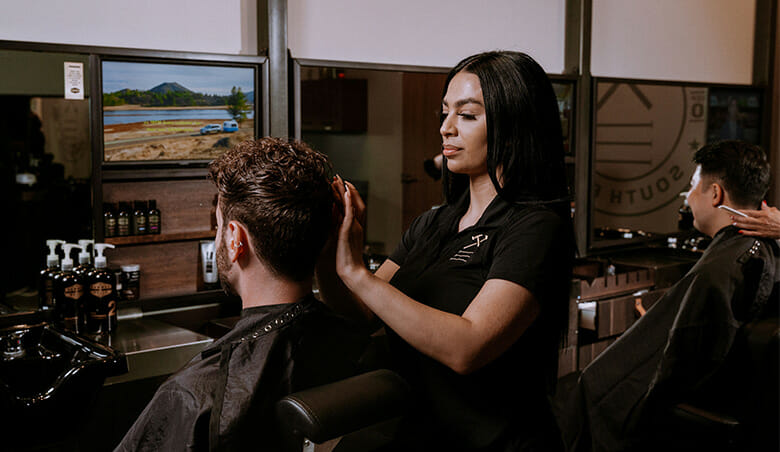 Hammer & Nails Grooming Shop for Guys Opening in Roseville
ROSEVILLE, Calif. – Hammer & Nails Grooming Shop for Guys, a premier men's grooming destination specializing in haircuts, shaves, and hand + foot care all in a relaxed and refined environment, is opening a new shop in Roseville. Located at 1565 Eureka Road, Ste. 7, the new grooming shop is slated to open mid-December.
In celebration of the Roseville location, community members are encouraged to stop by for pre-sale deals ahead of the opening on December 16. For a limited time, the shop will offer an exclusive membership for those who sign up as "founding members" – only $64 for two classic services each month (cut, shave, manicure, pedicure). When you sign up as a founding member you also receive free shampoo service for life – all valued at more than $250.
Located at the corner of Lead Hill Boulevard and Eureka Road, the Roseville Hammer & Nails shop is owned and operated by local business partners Chris Kuo and Ryan Kim. Both Chris and Ryan come from the medical field and are practicing physicians. Having both worked for years with patients, Chris and Ryan are looking forward to improving the lives of area residents by helping them feel more confident and comfortable through their new Hammer & Nails shop.
"When people learn about our new business endeavor, they often ask what prompted such a drastic change, and the truth is, I don't find it to be that drastic at all. We're both used to helping clients feel their best, and that's exactly what we intend to do with Hammer & Nails," shared Chris Kuo, a California native.
The Hammer & Nails experience is unlike any other in the health and wellness space. With 11 locations currently open and operating, each shop offers a low-lit atmosphere. Exterior windows are tinted dark for privacy, and the interior is furnished with dark wood and steel, to create a relaxing vibe from the moment you walk in. Guests who have scheduled an appointment are greeted by name and escorted to a beautiful oversized leather chair. You'll be handed a menu with complimentary beverages ranging from an iced tea to MacAllen's whiskey, all of which is included in the service cost. Additionally, every guest has their own personal TV, remote and noise-cancelling headphones for entertainment during his visit.
"At the end of the day, all types of work and business come down to one thing, and that's connecting with people to figure out their needs and then fulfilling them. We know the area will fall in love with the Hammer & Nails brand just as we did and are incredibly excited to open our doors," added Ryan Kim, who attended medical school in New York prior to moving to California.
With an overarching goal to have 150 locations open and operating by 2025, Hammer & Nails has found tremendous success with its California locations and plans to open 100 of those shops in The Golden State.
"Chris and Ryan are joining our brand at a key moment of growth. Offering hand and foot care and grooming services all under one roof is sure to revolutionize personal care in Placer County," said John Choi, CEO of Hammer & Nails. "This Roseville shop not only expands our area footprint and continues the aggressive growth plans we have in the state, but, most importantly, it will bring a new level of personal care to the regimens of local residents."
At Hammer & Nails, not only is the entire experience the absolute pinnacle of relaxation, but the hand and foot care offered yields significant health benefits. During a visit, technicians will examine feet and hands before the services begin. Then, hands are wrapped in hot towels with essential oils. Every part of the process is about giving great service and helping make guys feel relaxed and pampered in a welcoming environment.
For more information about Hammer & Nails in Roseville visit https://hammerandnailsgrooming.com/locations/roseville-ca/ or call 916-936-0111
If you're interested in learning more about the Hammer & Nails franchise opportunity, visit www.hammerandnails-franchising.com.
About Hammer & Nails
Hammer & Nails was founded in 2013 with the vision to provide hand and foot care, manicures and pedicures, haircuts and shaves to every type of male. After offering a franchise opportunity in 2015, the brand awarded licenses for more than 200 shops and is working to have 150 locations open and operating by 2025. To learn more about the brand, service offerings and locations, visit http://www.hammerandnailsgrooming.com/